From guarding the national team to playing for them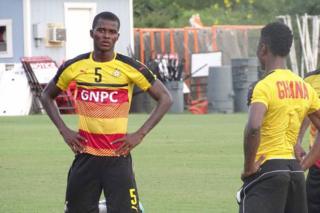 A Ghanaian policeman who had been a security guard for the national football team has told the BBC that making his international debut was "a dream come true".
Samuel Sarfo made his debut for the Black Stars on Saturday, coming on as a substitute in the 81st minute of Ghana's 2-1 defeat by the USA.
The 26-year-old played as a central defender in the friendly match.
Sarfo told the BBC that he wants to turn professional.
Despite playing for the national team, he remains on active duty and also plays for Liberty Professionals in the local league where he is the captain.
He told BBC's Sport Nishat Ladha that he grew up with most of the players in the national team and that they had been supporting him, especially team captain Asamoah Gyan who told him to continue working hard.
Sarfo was first named in the national squad for an African Cup of Nations qualifier match against Ethiopia in June. He said he was living his dream playing for the national team:
"It was a dream come true. That is the dream of every young chap growing up in Ghana to don the national colours".
He said that midfielder Emmanuel Agyemang-Badu, with whom he was pictured last year while wearing his police uniform had been supportive of him, even though Agyemang-Badu had not been selected this time.
Sarfo says that he wants to play professionally because the world needs to see what "Samuel Sarfo is made of".
Source: BBC NEWS